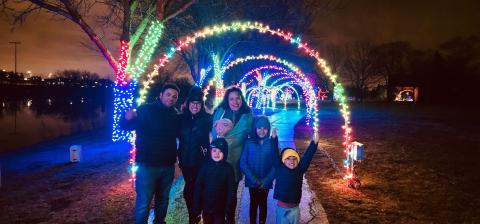 The Winter Lights at Central Park began in 2020 to offer a free outdoor activity to bring happiness and joy to the community during the pandemic. To do this, the Oak Brook Park District, with the support of the Oak Brook Park District Foundation, created an inclusive experience everyone could participate regardless of ability or socioeconomic status. An event growing in design and community popularity, this season's event offered a free ½ mile loop with over 9+ individual scenes with music and moving lights.
With the support of our corporate sponsors and growing community popularity, happiness and joy have never been more prevalent. Thank you to the approximately 27,700 participants who came to enjoy the lights during the 2022/2023 season. A special thank you to those who donated to the Oak Brook Park District Foundation and Peoples Resource Center Fund.
Together we raised an astounding $5,235.00. Donations will be split between the Peoples Resource Center, an organization that helps respond to basic human needs, promote dignity and justice, and create a future of hope and opportunity for DuPage County, Illinois residents, and the Oak Brook Park District Foundation.