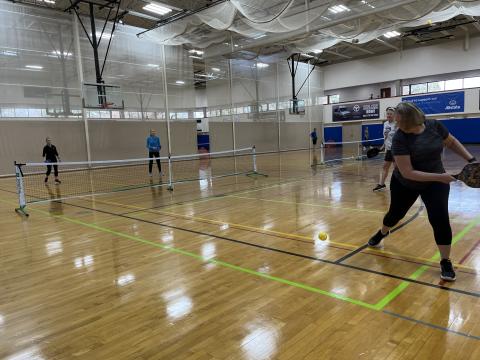 Get a group together and play Pickleball at the Oak Brook Park District.
Funds are being raised by the Oak Brook Park District Foundation to sustain and enhance amenities at Central Park.
Pickleball is the fastest-growing sport in America, with over 4.8 million people taking to the court. Better yet, it is the fastest-growing sport at the Oak Brook Park District! Ever thought about joining the fun? Rent our indoor courts with a group of 10 or more!
Just Show up and Play!
What you get:
Full-service setup and tear down
All equipment, indoor courts, paddles, and balls
2 hours of gameplay
Instructions and "How to Play" video
Convenient location
Create a Winning Culture: take your company team-building event to the next level at the Oak Brook Park District with a pickleball outing. We are here to help you create a fun team-building pickleball event that your co-workers will love! Establish a strong and collaborative team through a pickleball activity and let the games begin.
Why others are joining in:
It's a fun way to get moving and stay in shape.
Everybody can play pickleball, regardless of age or skill level.
It's a game that even pro athletes like Lebron James and Draymond Green are playing and investing in the sport.
Additional information:
Groups of 10 to 75
2-hour rental

10-20 people donation $1,500  (3 indoor pickle courts provided)
21-39 people donation $2,500 (6 indoor pickle courts provided)
Over 40 people donation $3,500 (9 indoor pickle courts provided)
Dates and Times:
Saturday Winter/Spring (Sept. 6th – Nov. 30th / March 4th-May 30th) 6:30 pm – 8:30 pm
Saturday Summer (May 31st-Sept. 5th) 4:00 pm – 6:00 pm
Contact: Rachel Jones via email at rjones@obparks.org. All bookings must be confirmed three weeks before the event date.
*The Oak Brook Park District is a non-profit organization under Internal Revenue Code Section 501(c)(3). Your donation may be tax-deductible.